December 7th - Diamondback All Girls Tournament
Diamondback All Girls Tournament
When: December 7th. Check in at 12:30, First round at 12:45
Where: Erna Fergusson Library meeting room, 3700 San Mateo Blvd NE, Albuquerque, NM, 87110
Format: 2 sections based on entry, 3 rounds, G/45. Open to girls age 18 and under.
Entry Fee: $2 before December 7th, $5 on December 7th
Prizes: 1st, 2nd, and 3rd place medals for both sections
Register by sending an email to chess.coachwillow@gmail.com. USCF memberships are required, and can be purchased upon registration.
December 7th - Belen Blitz Bash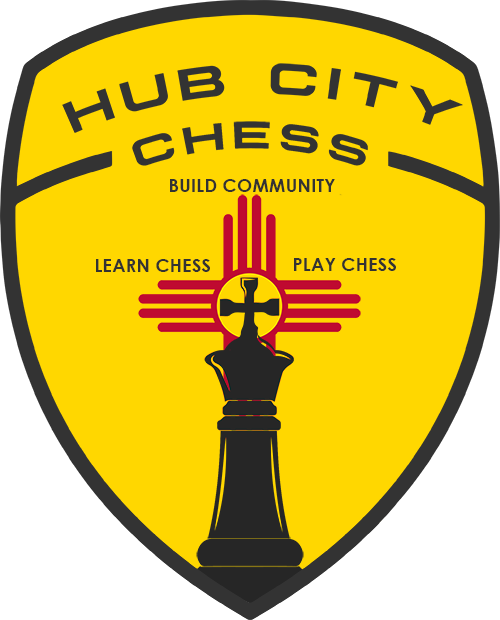 December 7th / Belen Blitz Bash
Doors Open: 9:30AM – 1:45PM – Belen Public Library Google Maps
Prizes: Based on entries
Seats: 48 open seats
Sections: Open & U1400
Entry Fees: $5.00
Time Control: g/5 – Blitz Rating
Refunds: None
Byes: None
Registration: Email Joey Troy to sign up info@hubcitychess.org
Devices: No cell phones allowed in playing area
Notation: Not required
Extra Room: After your game is completed there is a skittles room available
Late Registration: 9:30AM 
Round times: R1 10:00AM / R2 10:20AM / R3 10:40AM / 11AM to 12PM Lunch / R4 12:10PM / R5 12:30PM / R6 12:50PM / R7 1:10PM /
Winners Circle: 1:30
Clean Up: 1:30-1:45PM assistance with putting away chairs and tables
Equipment: Please bring equipment to play
December 8th - 2020 Scholastic Chess Kick Off Championship
2020 Scholastic Chess Kick Off Championship
Sunday December 8, 2019
Bike In Coffee, 949 Montoya St NW, Albuquerque, NM 87104
Estimated 39 awards
USCF RATED SECTIONS – These USCF-rated sections are for USCF members with some tournament experience.
K thru 12th Grade Scholastic Kick Off – Sections will be paired by grade, 4SS, G/45 5 sec delay. USCF membership required, Entry Fee $10, by December 1st t Midnight. Entry Fee $20 after December 1st and registration closes on December 5th at Midnight. Awards to top 3 players in each section.
All players must enter the section based on their current grade in school. No "playing up."
ROUND TIMES: Round 1 at 9:00 a.m., other rounds ASAP. No half-point elective byes available.
Chess notation shall be required in Grades 4-12
Tie Breaks
In case of a tie it will be determined they are Co-Champions.
Electronic Device Policy
We strongly encourage players not to bring their EDs into the Playing Area, which includes the playing room, seating area, spectator area, and bathrooms. US Chess recommends players leave their EDs with
their parents or coaches. Players who bring their EDs into the playing room must turn-off their EDs. Exceptions to the restrictions on EDs include chess clocks, approved electronic notation devices.
Need Help in the cost of registering for the 2020 Scholastic Chess Kick Off Championship Tourney and or US Chess registration, contact Tony Romero for NMCO scholarships options at scholasticdirector@nmchess.org
NO ON-SITE REGISTRATION. Entries AND PAYMENT must be received by Thursday, December 5th midnight, via online registration via Paypal. USCF memberships may be
purchased online at www.uschess.org. Still have questions? Call Tony Romero at 505-228-4192 or email us at scholasticdirector@nmchess.org
Unfortunately no refunds on any entry fee.
December 9th - Diamondback Chess G/15
Diamondback Chess December G/15
When: December 9th, 6pm -9m
Where: Fuddruckers, 4855 Pan American Fwy NE, Albuquerque, NM 87109
Format: Round Robin, 5 rounds, G/15; d5, Quick Rated
Entry Fee: $5
Prizes: $15 first, $10 second in each 6 person section
Info: Email johnlt77@gmail.com to register or with more questions
December 14th - Octos
Octos
When: December 14th
Where: La Farge Library 1730 Llano St
Format:  3 rounds G/60; d5 
Entry: $10. 1st in each group wins $40. 1st in lower half wins $20.
Diamondback Chess December G/10
When: November 18th, 6pm -9m
Where: Fuddruckers, 4855 Pan American Fwy NE, Albuquerque, NM 87109
Format: Round Robin, 5 rounds, G/10; d2, Quick Rated
Entry Fee: $5
Prizes: $15 first, $10 second in each 6 person section
Info: Email johnlt77@gmail.com to register or with more questions